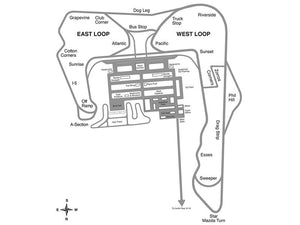 PRO ACTIVE COACHING

Fastrack's new Pro Active Coaching – ProAC-L1/L2/L3  program makes coaching by top Professional Road Racers available to all Levels 1, 2 & 3 riders throughout the day on and off the track. Complete with classroom breakout sessions and lectures, one-on-one lead/follow guidance on the track as well as off-track personalized on-demand coaching accompanied by video footage critiquing and onboard communication as needed.

Fastrack CEO, Mr. Imad Samhat comments: "It's safe to say that all riders, at any level, look to improve in riding safer and faster. Yes, we can all benefit from qualified coaching. That's why we're introducing this new program at an introductory pricing and will look to make it available at least one day per event weekend"
ProAC-L1/L2/L3 sessions will be limited in group size and led by Fastrack's Professional Racer coaches, aka "PAC's" Pro Active Coaches (i.e. Eric Bostrom, Jake Zemke, Chris Ulrich, Jeremy Toye, and surprise appearances from more top Pros), and also Fastrack Riders expert racer seasoned Coaches aka "AC's" Active Coaches.
ProAC will be offered at $350 per rider (track day included) for a limited time only. That's only $120 more than what riders normally pay for regular track day practice.
Basically, the $120 extra cost, which is included in the $350 price, adds the following benefits *:
Top Professional Racing coaches
Fastrack Riders expert racer seasoned coaches
Classroom breakout sessions and lectures
One-on-one lead/follow
One-on-one off track coaching
On-demand video footage critiquing and onboard communication as needed
Faster safer laptimes
A heck of a great time! 
* Dependent on first come first serve basis and Coach availability
Each day will offer classroom breakout sessions. Topics selections will grow based on popularity and demand. But here are some of the topics to choose from that the Pros have already defined:

Being in the moment (focus)
Eye movement / reference points
Body position
Throttle and brake
Bike placement / line selection
Trail braking (more advance technique)
Motor controls: Gear selection / Engine RPM; the objective of maintaining load and chassis geometry.
Fitness Element (workout / hydration / nutrition)
Coaches and Classroom sessions will be available to riders that are registered in the program only. 
The $350 price is a limited time offer!